What it is, advantages, moulds, colours and prices
The popularity of stamped concrete is no coincidence. Its countless advantages make this decorative coating one of the most widely used for all types of construction work. A construction material that is the result of the combination of different elements: binder, aggregates, water and some additives.
The result of its mixture gives as a result stamped concrete paving and vertical walls that stand out for their great hardness and resistance, but also for their attractiveness. A very attractive aesthetic that is given thanks to the wide range of designs offered by the stamped concrete moulds that are stamped on the surface to be renovated.
What is stamped concrete?
Stamped concrete is a decorative technique that consists of stamping moulds on the surface of fresh concrete that perfectly imitate all types of materials. The patterns, textures and colours that can be obtained are infinite.
Stamped concrete, as printed concrete is also known, is a continuous, low-relief paving with a pigmented surface capable of simulating the most varied pieces and textures: cobblestones, brick, stone, slate, tiles and even wood, among others.
A construction material that is used especially in the field of paving pavements, terraces, parks, gardens, garages, shopping centres, entrances to residential dwellings or around swimming pools. This is why it is known as stamped paving, as this decorative technique is mainly used on horizontal surfaces.
The versatility of this decorative continuous paving and its durability are some of the keys to its success. Stamped concrete can be applied on both indoor and outdoor surfaces. However, it should be noted that moulds can also be stamped on vertical surfaces. This other technique is called vertical stamped concrete.
Advantages of stamped concrete
Stamped concrete has no limits as far as shapes and colours are concerned. A personalisation in design that not all materials can boast. Thanks to its ability to imitate parquet, stone, brick or wood, among others, unique projects can be created.
In addition to these advantages of the stamped concrete floor, there is also its malleability, strength and durability. This is why it has such a wide range of applications. Garages, terraces, shopping centres, homes and many other surfaces. Stamped concrete facades, walls and floors do not require special cleaning and maintenance.
Durability and resistance:
Stamped concrete is one of the most durable floor coverings available thanks to its high resistance to traffic. This is why this material is so popular for covering roads, parks, garages or entrances to residential areas. It is also a decorative covering that withstands continuous changes in temperature and UV rays. It adapts to different weather conditions, even frost. With proper application and use, a stamped concrete floor can last for more than 20 years.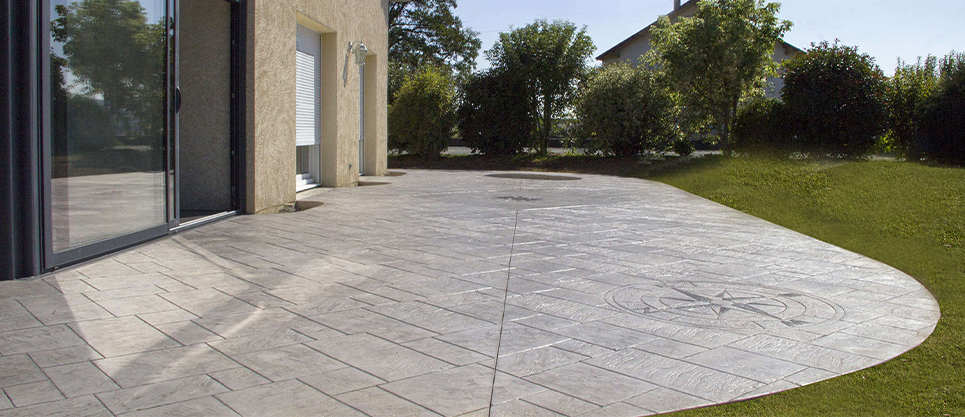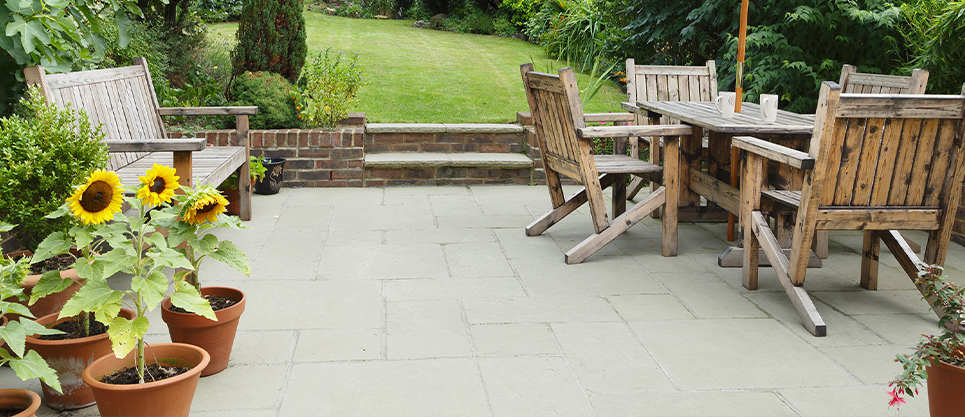 Wide variety of finishes
Stamped concrete is highly customisable. It offers a multitude of finishes, shapes and textures depending on the printed concrete moulds used. But also depending on the pigments chosen to colour the mould in question. It is possible to combine several pigments to obtain even more spectacular final results. A versatility thanks to which it is used as flooring but also as wall and façade cladding.
Quick execution
The installation of stamped concrete is quick and easy. As it is a continuous mortar, the execution times are reduced compared to other alternatives on the market. More complex geometric shapes will require more time.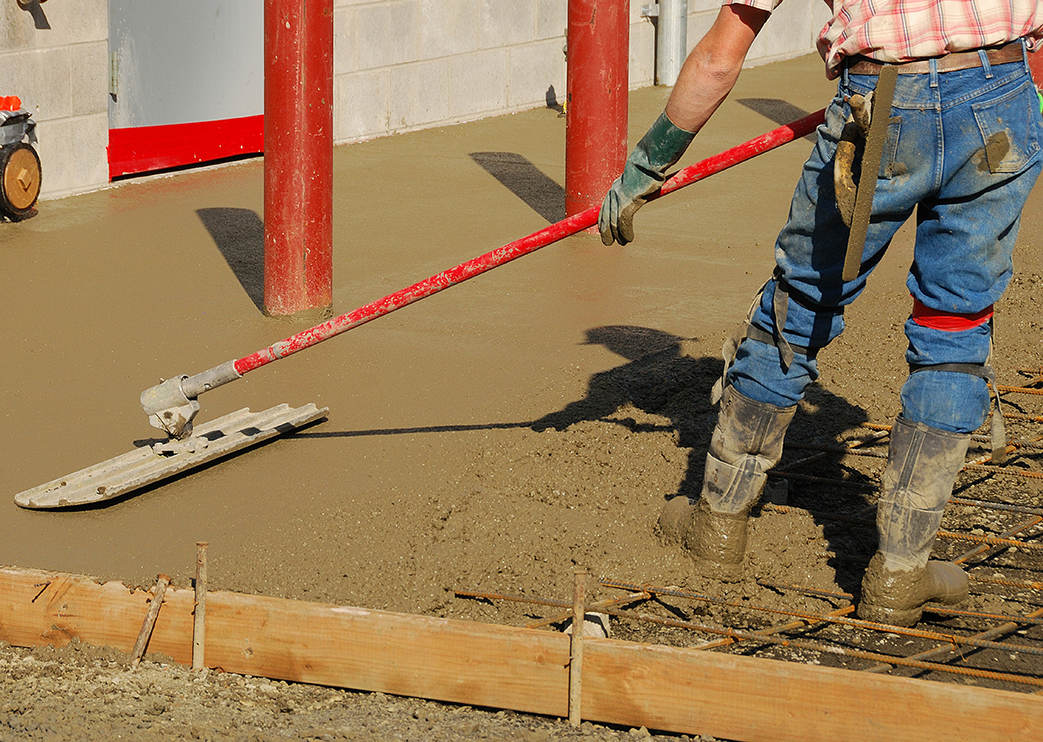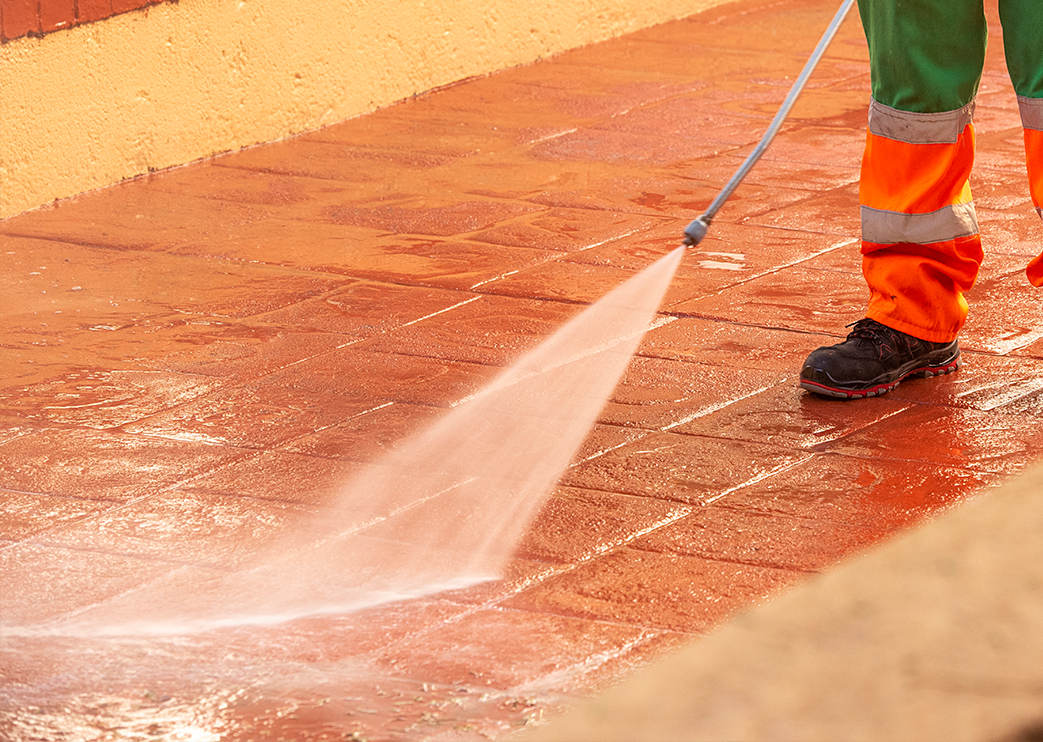 Low maintenance
Preserving the optimum state of stamped concrete is not as demanding as other materials. It is sufficient to wash the surface from time to time to prevent the accumulation of dirt. And renew the varnish layer every 2 or 3 years, especially on pavements that suffer a lot of wear and tear due to vehicle traffic.
Benefits stamped concrete

Customised finishes
Stamped concrete moulds offer infinite combinations and textures.

Resistance to cold-heat cycles
Extreme temperature changes do not affect the stamped paving.

Waterproof and slip-resistant
With the use of specific moulds and varnishes, stamped concrete guarantees a waterproof and non-slip finish.

Long service life
Stamped concrete floors have a greater resistance and durability than many other materials.

Uniformity
The stamped concrete is perfectly suited to all types of terrain, even those with irregularities or varying shapes.

Prevents weed growth
Stamped concrete, by forming a slab-style paving and having no joints and gaps, prevents weed growth.

Indoor and outdoor versatility
It can be used in many ways indoors and outdoors. Both as a paving system and as wall and façade cladding.

Non-fading
Stamped concrete colours are made of inorganic pigments that are resistant to sunlight. Therefore, they will not degrade or discolour over time.
Moulds for stamped concrete
Moulds are a basic element to carry out this decorative technique. Their stamping on paving and vertical cladding is what makes it possible to obtain the most varied textures and patterns.
The decorative solutions offered by our more than 150 stamped concrete moulds are unlimited. A very complete range in which some of the most outstanding shapes are: fan moulds, cobblestone moulds, tile moulds, road moulds, brick moulds, slab moulds or stone moulds.
Stamped concrete moulds are constantly being created to offer increasingly creative patterns and designs. Achieving finishes such as irregular stone, classic paving stones and even wood couldn't be easier than with IMACEM.
Get to know them all and let your imagination run wild.
Stamped concrete colours
Stamped concrete is a continuous cladding in which all possible colours can be combined. From neutral colours such as white, black, grey or beige, to more intense and daring shades such as red, green or blue.
Inorganic pigments are used to colour stamped concrete because they are resistant to alkalis, solar radiation and weathering. 
At Topciment we have created four different lines of stamped concrete colours. Pigments that give colour to the mortar, transforming its appearance and that can be used outdoors without any worries. Arcocem, which is the name of our family of pigment pastes, is highly resistant to the effects of sunlight and cleaning products.
With our dyes you can colour stamped concrete with full guarantees. White, grey, silver, black, brown, blue, green or red are just some of the many stamped concrete colours we can offer you. In addition, many of our products have their own colour chart.
Renovate multiple spaces with stamped concrete
Stamped concrete is an alternative to more traditional architectural materials. We are referring to wood, terrazzo and ceramics. A decorative technique that is a more economical choice to make and also to maintain over time.
A covering that makes it possible to play with reliefs and patterns and that is more suitable for outdoor areas, especially floors in public areas. There are four types of stamped concrete, depending on the method of application and the use to which it is to be put.
Outdoor stamped concrete floors: driveways, pavements, parks, terraces, gardens, patios, shopping centres, car parks, entrances to residential areas, etc.
Indoor stamped concrete floors: although they are less common, in recent years their use has increased in homes, sports centres, restaurants, hotels and commercial premises.
Stamped concrete in swimming pools: the resistance to humidity of stamped concrete, its non-slip character and a unique decorative touch make it one of the most recommended materials for covering the swimming pool environment. This is why stamped concrete in swimming pools is so popular.
Vertical stamped concrete: we can find it on facades, walls and walls of residential houses and heritage buildings such as museums, etc. The aesthetic contrast of vertical stamped concrete is spectacular. Its execution process differs slightly from the paving system.