Different types of flooring for playgrounds
Durability and safety are undoubtedly the main criteria to be taken into account when considering what type of flooring to install in a playground. Concrete is hardly used nowadays; although it is resistant, it is not elastic and can cause injuries. Artificial turf, despite being a very aesthetic alternative, does not protect against falls either. 
With these requirements, and given their performance, the proposals based on polyurethane-bonded rubber are multiplying. They are easy to install on a smooth surface, allow drainage and can be cleaned simply with water, among many other advantages.
If it is chosen to lay the flooring in continuity, two layers are usually applied: the first, which provides cushioning, and the second, to add more resistance to the weather, the passage of people or colours and design. Styrene-butadiene rubber (SBR), which is black, is usually chosen for this purpose. Coloured and more resistant EPDM grains are also used, which are placed over the SBR and are an elastomer with very good waterproofing properties.
Benefits or advantages of using polyurethane-bonded rubber for playground flooring
Polyurethane-bonded rubber in this application is a most advantageous material: 
Great cushioning and a high bending capacity in different thicknesses, depending on the drop height. 
Slip-resistant, abrasion-resistant, sound-absorbing material, absorbs water very well without forming puddles and requires almost no maintenance. 
The rubber used promotes circularity, as recycled materials are used in its manufacture.
To this we must add something very important when we talk about children's playgrounds or even areas for practicing sports or gyms: it allows different designs to be formed, playing with shapes and colours.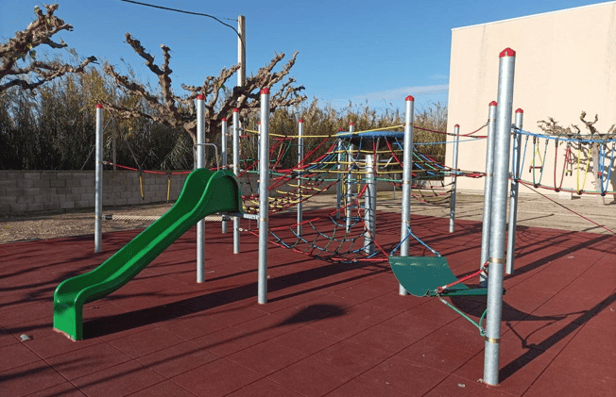 Polyurethane-based binding resins are used to make rubber parts and surfaces, but also cork, aggregates or natural stone. 
As a rubber binder, we have the single-component aromatic polyurethane resin Synthan PE-3008 and Synthan A-92, perfect for SBR or EPDM floors and in general for soft and decorative flooring. 
In the case you want to add soft colours to the surface layer of the flooring and combine with EPDM, the best choice is the aliphatic rubber binder Synthan P-904/2 composed of an aliphatic polyurethane resin resistant to colour change.